They say the best things come in small packages. Thus, the ever-rising popularity of canapés and bowl food at London private parties and corporate events is easily explained. These exquisite little masterpieces don't just look good and taste delicious. Opting for finger food solves the problem of space and allows your guests to really enjoy a party, as they are able to freely walk around and interact with each other, while canapés are being passed around on trays and platters by waiting staff. There is also a more varied selection of food on offer as opposed to a formal sit down meal, so you can be sure that none of the guests will leave your party hungry.
How many canapés to serve per person?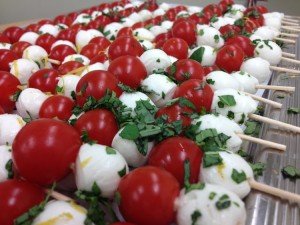 It really depends on a party you are having. We would usually recommend around 8 savory and 2-3 sweet canapés per person for a standard 4-hour private party at home, where no other food is served.
If it's a drinks reception after a wedding ceremony and a wedding breakfast will follow, 3-4 pieces per person will do just right. These quantities will surely tease the taste buds but won't be enough to spoil the appetite of your wedding guests before the main meal.
If you would like to serve some finger food at a gallery event, aim for around 4-6 canapés per person.
While it is always good to be on a safe side and have some extra food in case your guests are very hungry, try not to worry much whether canapés will last till the end of the party. Our waiting staff will control the quantities and will slow down the service if needed.
What canapés to choose?
It's always a good idea to have both cold and hot options. Note that if you opt for hot canapés, they will need to be reheated or even cooked before being served. Please, provide our waiting staff with cooking instructions, prepare baking trays and show one of the waiters or waitresses how to operate your oven.
Make sure you cater for all tastes and preferences – have seafood, meat, poultry and vegetarian canapés. Think allergy and include dairy and gluten free options as well.
Tip: Try to find out prior to an event if any of your guests have certain food intolerances.
What are the most popular savory and sweet canapés?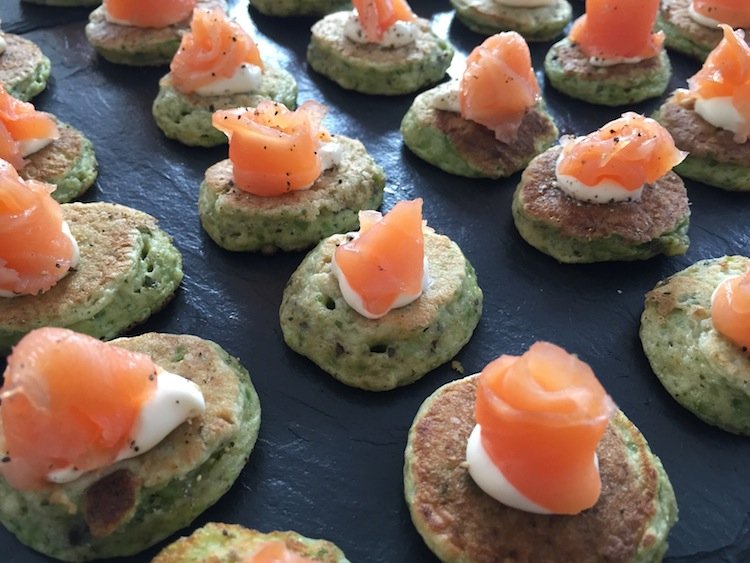 From our waiters' and waitresses' experience, the most popular savory canapés at any party are:
Tomatoes and mozzarella skewers with basil and olive oil
Cocktail sausages with honey and mustard
Smoked salmon blinis
Yorkshire puddings
Top dessert options include:
Mix fruit skewers
Mini chocolate brownies
Macaroons
Tip: Sushi are not always the best choice to be served canapé style, as it can get quite messy. If you have lots of sushi fans in your guest group, you can still choose to have them but keep this food on a separate table so people can help themselves to it.
How to serve canapés?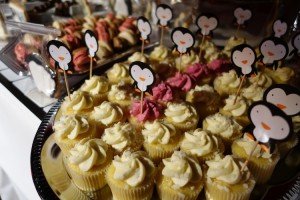 First of all, a waitress will need some canapé serving trays or platters. Most catering companies can provide you with these. If you buy your canapés from a supermarket or prepare your own finger food, check your kitchen cupboards. You will most certainly find something suitable. Any wooden boards or slate trays will do a great job. Plain round plates slightly bigger than a dining dish size will also be suitable for this purpose. Think colours when choosing your trays. White dishes may be used for dark and brown coloured food (for ex. meat canapés), while slates are perfect for lighter colours (for ex. tomato and mozzarella skewers). Our waiters and waitresses have a good eye for detail and will be able to advise you on this. They will also make sure that canapés are presented nicely and look beautiful. We usually recommend to serve 1-2 kinds per tray and not to mix meat and vegetarian options.
Tip: Think about the space available for a party. It might be a good idea to opt for smaller serving dishes, so that our waiting staff are able to move around easily.
Remember to find some bowls for canapé sauces and small plates for used canapé sticks.
Tip: Cut lemon in half and place it on a serving tray so that guests can stick used toothpicks in it.
And last but not least, don't forget about the napkins!
What information should I provide waiting staff with?
As it was mentioned above, our waiter or a waitress will need to have cooking instructions at hand as well as information about all canapé ingredients. Please, let them know when you want your canapés to be served. We would recommend to wait for 15-20 guests to arrive before starting serving any food. Dessert time will also need to be agreed beforehand.
Canapé Catering: Recommended suppliers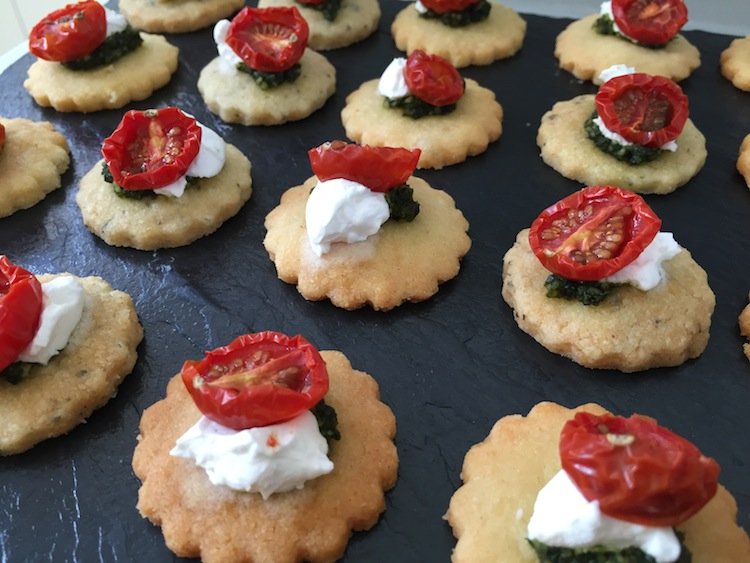 A perfect choice for private parties in South West London (Clapham, Balham, Earsfield, Fulham). We have been working with this catering supplier for a couple of years now and their food is utterly delicious! They provide a drop off service and can help you out with canapé serving dishes, bowls and cutlery.
Check an extensive choice of canapés and sandwiches offered by this supermarket. We have come across Waitrose canapés at many London parties now and can definitely say that they offer a very good value for money. Canapés come packed in boxes, so you will need to have your own serving platters. 5 day notice is required for most of the canapé types.